The goal is to fulfill the demand by equine professionals (veterinarians, equine chiropractors, massage therapists, physiotherapists, and other equine wellness professionals) worldwide to learn the Equi-Taping® Methodology.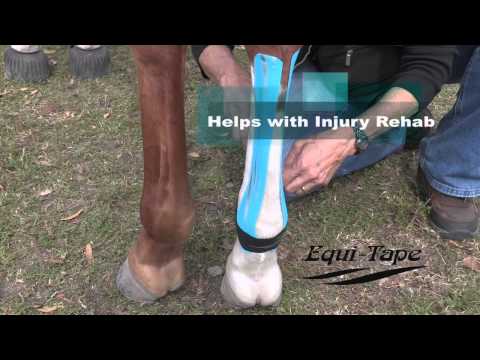 The taping of horses is becoming ever more increasingly popular, but as many a consumer and untrained professional have found out, taping to equine hair requires specific skills.  "The Equi-Taping® Methodology is a set of assessment guidelines supported by specific taping applications and techniques that set us apart from other brands and companies attempting to penetrate the market", RSB Animal Health CEO James Ruder noted.
Closing the year with courses in Queensland Australia, and Brigadoon Western Australia, seemed like such a perfect time to launch our international course offerings.  Over the last year or so, equine professionals from all over the world have reached out to us, with the Australian and British equine wellness professionals being the most vocal and the most persistent.
2015 will open with our first European course hosted by world renowned professional sports and remedial therapist, author, coach and equine painter; Gillian Higgins. Ms. Higgins is famous for her work, Horses Inside Out. The course is to be held April 1 and 2 in Leicestershire England. This will be a very special event as it formally launches our foray into the European market, providing us with developing partnerships in animal wellness overseas. 
Equi-Tape® can be used to address a wide variety of equine conditions; providing support and stability to joints, relaxing or assisting muscle function, aiding in the reduction of inflammation thru increased circulation, or the reduction of swelling thru the increased movement of lymph. This non-medicated tape can be used to help rehabilitate injuries and return horses to soundness sooner. Latex free for sensitive skin, Equi-Tape® has advanced adhesive properties for ease of application and removal. Equi-Tape® Train Harder –Recover Quicker™.
About US
RSB Animal Health in collaboration with The Horse In Motion and Dr. Beverly Gordon jointly make up the Equi-Tape® Education Team.  Our motto, "Innovation thru Collaboration" is clearly evident in this collaborative relationship. RSB Animal Health is a manufacturing, marketing, sales, distribution and product development company that uses its experience to solve critical business challenges and build successful product and brand solutions. To learn more about us, call 877-288-1760 or visit us at www.rsbioceuticals.com