×
Janet Crow
Work on a Foal
Photonic Light therapy on a foal
×
Janet Crow
Belly wound
Photonic therapy on a belly wound of a horse
×
Janet Crow
Wound Healing nicely
Photonic Light therapy for a wound on a horse
×
Janet Crow
Relaxing therapy
Photonic Light therapy on a horse
×
Watch on YouTube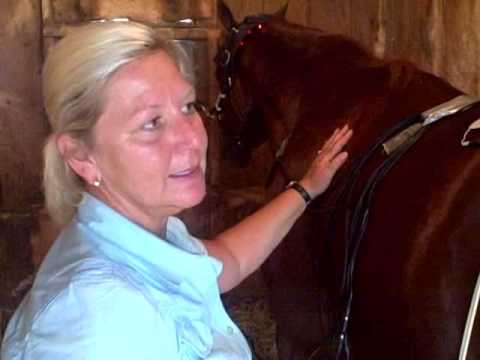 Light Therapy used on Race horses
The cells in our bodies are negatively charged on the inside and positively charged on the outside with a constant exchange to maintain cellular balance. A sound or soft tissue trauma interrupts that neutral balance and an imbalance occurs.
            Application of Photon Light Therapy can help re-balance these traumatized cells, flush blockages, and promote spontaneous healing.
            Healing wounds with photonic light can prevent, reduce or eliminate:
            - inflammation
            - scarring
            - infection
            - proud flesh
            - pain
The therapy is totally natural, non-invasive, and non-traumatic, and can noticeably accelerate the healing process.
FRESH WOUNDS
JJ is a 4-year-old Quarter Horse mare. She ripped a "V" about 4 inches long and 2 inches wide at the widest point on the underside of her jaw on the right jawbone. From my experience with this kind of wound in the past, I knew that the flap of the "V" could die and curl back to form a lump of dead tissue that might need to be cut off. Gravity was not in our favor with JJ, so I cleaned the wound with water and "pasted" the flap back over the wound with petroleum jelly.
            I performed a photon light treatment within two hours of the onset of the wound and then sprayed with scarlet oil.
            The next morning (24 hours later) the wound edges had already begun to mend back together and the "flap" tissue looked healthy. There was no inflammation and the wound was dry and clean and appeared to be days old instead of just hours old. The treatments were performed every other day for one week.
            JJ's jaw wound was completely healed in three weeks. No drugs, sutures or antibiotics were used. No scarring or proud flesh occurred and the entire flap remained viable and reattached itself to the wound edges.
OLD (CHRONIC) WOUNDS
When wounds have healed or have partially healed with granulated tissue and proud flesh, photon light therapy can be used effectively to reduce and modify or completely resolve these conditions.
            Granulated tissue is formed when blockages occur due to imbalances caused by trauma and inflammation. Granulated tissue will continue to build until the blockage is removed. When that blockage is removed with photonic light therapy, there is typically a 60% to 80% improvement on proud flesh within 24 hours.
            Excessive scarring can also be reduced and flushed to prevent further buildup and possible future damage. Scar tissue over tendons, ligaments, or joints can continue to build up over months and years and may eventually affect the soundness of an otherwise healthy horse. Scarring can be kept to a minimum with photon light treatments.
SURGICAL INSCISIONS
Junior, a 4-year-old cutting/reining bred Quarter Horse stallion, had just started his show career and had several shows under his belt when catastrophe struck.
            It all began when Junior started to exhibit colic symptoms. When he didn't respond to standard colic treatments, he was rushed to Colorado State University Equine Center. It was determined there that Junior had a twisted left testicle and a portion of the small intestine had slipped through the twist. Surgery was immediately performed to remove a portion of the small intestine and the left testicle, both of which were damaged.
             Junior was to stay at CSU for several days before going home, but, because he seemed more depressed each day, his owner decided to bring Junior home to recover.
            When I began to examine Junior I could not believe the severity of the inflammation and swelling under his belly, starting at the incision sites and filling the whole underbelly. The inflammation was so severe that it felt like bone to the touch.
            I performed photon light therapy on the incision sites and the inflammation areas and results were immediate. The flushing process began, the pressure lessened, and the pain was reduced within minutes.
            Two days later when I arrived for his second treatment, Junior's attitude and spark were back. The inflammation was reduced more than 50% and the intense pressure was gone. With the second treatment you could watch the inflammation move out immediately underneath the torch.
            Another 48 hours later, I came back for the third treatment. All the inflammation was gone except for a small area right around the testicle incision. I treated him the third and final time to finish the flushing process and his progress continued to be quick and uneventful.
            With Junior I discovered how critical pain management is in wound healing. Even though he was on pain medication, Junior lost his will and had given up. Once the pain was removed, his habits became normal again and the healing process was accelerated.
Janet Crow is a natural horsewoman, equine massage therapist, equine photonic therapist and creator of The Touch and Torch Method™ (TTM™). She offers a three-level certification course in Colorado and a Level 1 Home Study Course. For more information visit www.naturalhorsepower.net, email [email protected], or call 970-590-3875.