×
Pixabay
This herb is rich in iron, vitamin C, chlorophyll and histamine and is one of the most nutritious tonic herbs.  A common use for Nettles is in cases of anemia or allergic conditions.  Due to its astringent properties, it is beneficial for hemorrhaging anywhere in the body.
"It was found that horses which had become thin and suffered from digestive troubles, benefited from the use of Nettles in their rations." (4) "...in Holland, and in Egypt, rumor has it that horse dealers mix the seeds of Nettles with oats or other food, in order to give the animals a sleek coat."(5)
The herb's nickname is "Stinging Nettles" because of the formic acid that is on the plant in its fresh form.  Nettles should not be picked with bare hands.   The formic acid can cause a nasty burning rash.  In its dried or cooked form, the formic acid is destroyed and will not cause a problem.  Native Americans used the plant as an irritant to relieve pain and rheumatism by increasing circulation by striking the fresh leaves on the body. (1)
Flies dislike Nettles; a bunch hung in the window or doorway will deter them. (2)  The fibers have hemp and flax-like qualities and make beautiful paper and woven fabric that was used in the early 1900's during war time in Germany.  Nettle Beer is a folk remedy for gout and rheumatic arthritis. (3)
Credits:
"The New Holistic Herbal" by David Hoffmann, Element Books Limited, Great Britain, 1990.
(1) "Indian Herbology of North America" by Alma R. Hutchens, Merco, Ontario, Canada, 1986.
(2) "Herbs--Partners in Life" by Adele G. Dawson, Healing Arts Press, Rochester, VT, 1991.
(3, 4, 5) "A Modern Herbal" Mrs. M. Grieve Dover Publications, Inc., NY, Volume II, 1981.
For more information about Nettles:
×
Watch on YouTube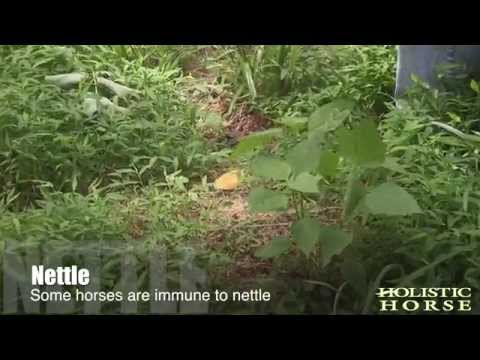 Herbs n' Pastures: Nettle
Known for it's stinging leaves, Nettle (Urtica diocia) can be extremely beneficial for both man and horse.